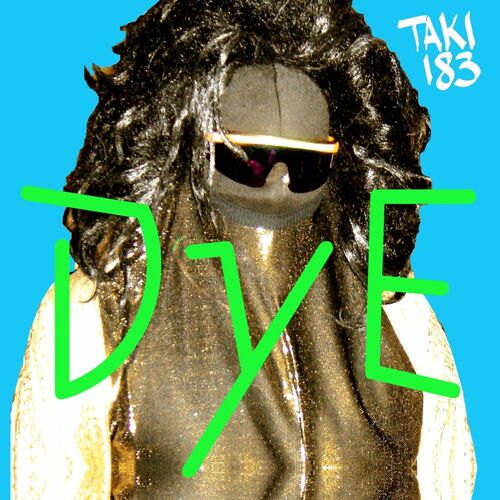 Taki 183 en lice pour le grammy de la pochette la plus moche ...
2011
Quel weekend, quelle semaine... J'ai perdu un petit être cher à mes yeux, je suis passé à deux doigts de perdre une amie encore plus chère, je suis fatigué du boulot et pourtant, je ne peux pas résister à l'envie de vous faire découvrir DyE et son premier effort "Taki 183" . Pour la simple et bonne raison que c'est l'album qui à tourné quasiment tout seul en boucle dans mon lecteur mp3 cette semaine. Je ne vais pas dire que cet album de musique m'a aidé à surmonter toutes ces épreuves du quotidien, mais presque, dans les faits, je m'endormais chaque soir en écoutant cet ovni , explications :



'Taki 183' was recorded using analogue equipment such as a Roland TR606, Moog Source and a Korg Poly Six into Pro-Tools. DyE plans to take the album on the road and is already booked at Social Club, Pompidou Centre and Le Machine. Lovers of the album can expect to see DyE

"pushing the limits of spectral delirium and Tightness." After all, in his own words, he is "the man who speaks to the ears of robots."

Pour l'info en vrac, DyE est le projet solo du bassiste Juan de Guillebon, connu pour avoir travaillé avec des grands comme James Murphy (LCD Soudsystem) et le très (trop) regretté DJ Medhi . L'album s'ouvre sur Nike , un brulôt pop taillé pour les dance floor, basse lourde synthétique, beat percutant bien graves, claviers vintages, efficace, l'album commence à 150km/h. C'est pour mieux ralentir sur Fantasy, véritable hit, colonne vertébrale de l'album qu'on qualifierait de synth-pop. C'est de loin le meilleur morceau du skeud , ça tabasse sans en avoir l'air et c'est hyper addictif. Crystal d'Acier repart de plus belle après cet intermède épique, et ça repart: ça fait boum boum, la voix est vocodée, les basse crades, et toujours ces claviers omniprésents sur le reste des chansons et ce petit goût de Gary Numan qui passe bien. . Les quatre premières tracks semblent s'échapper d'une rave party extra terrestre et motiveront , à grand renfort de stroboscopes et de cocaïne, à vous faire bouger le cul comme il faut. Si, à coup sur, on ne manquera jamais d'adjectifs pour qualifier un album, je dirais juste qu'il est parfois candide, parfois inquiétant, jamais chiant malgré une fin d'album qui s'envoie copieusement en l'air dans un délire bruitiste qui ne sera pas du goût de tout le monde.

Attention, dans le clip qui va vous être présenté, vous trouverez des aliens, des femmes à pénis, des parasites géants enfoncés dans des vagins, des teenagers et du gore. Si si ..