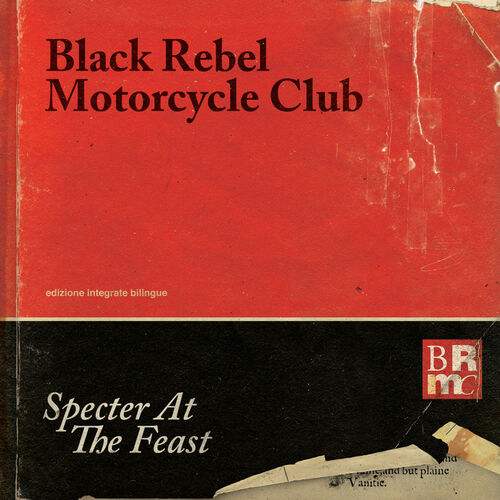 2013
Universal Music / Barclay
Spotify
|
Deezer
|
Web
Quand j'entend hurler sur la toile que le dernier BRMC est décevant, radical dans le changement, mou, bof, passable, pas top, et autres, il n'en a pas fallu plus pour piquer ma curiosité.
Specter At The Feast
est le septième album du groupe et se détache du reste des autres albums par sa pochette en couleur. De changement, il est bien question dans cet album de près d'une heure que j'ai pas mal écouté. D'abord un peu surpris, puis déçu, puis finalement, hey, c'est pas si mal comme on dit.
Le contenu reste homogène et alterne compositions rageuses (Hate The Taste, Rival, Teenage Disease, Late The Day Begin) et les autres (le reste de l'album, j'y reviendrais brièvement) . La ou j'applaudis, c'est que le virage entrepris dans la musique de BRMC est courageux, et j'ai de la sympathie pour les groupes qui se mettent en danger, quel que soit le résultat. Je trouve le pari réussi, sans tomber dans la soupe larmoyante, le groupes expérimente autre chose. Des chansons plus douces, comme ce "
Returning
" qui donne déjà le change en troisième position et qui a du en rebuter plus d'un. Et continu de plus belle avec "
Lullaby
" chanson low tempo, planante, qui me fait penser aux grands espaces américains. C'est la force de BRMC d'avoir su créer avec cet album la bande son parfaite d'un road trip ouvert. Cet album est très accessible, novateur pour le groupe qui n'a pas hésité à se remettre en question.
Qu'on se rassure, je suis sur que les lives de BRMC seront toujours d'aussi bonne qualité et qu'ils feront la part belle aux anciens albums.
C'est peut être pas le meilleur album du groupe mais surement un des plus aboutis.