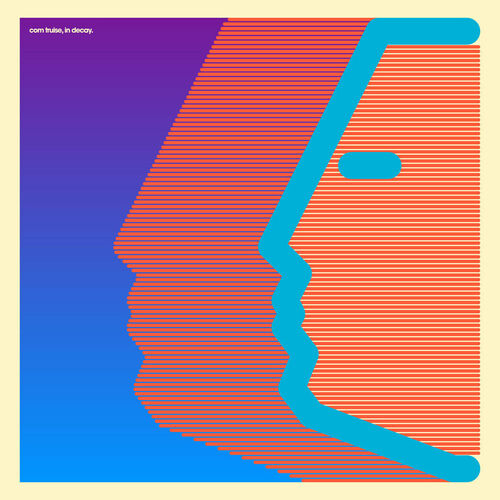 2012
Ghostly International
Le très prolifique Com Truise sort un nouvel album un ans après le succès international de Galactic Melt , qui lui avait valut d'être contacté par la crème de l'indé pour des remixes mais aussi par les plus grand puisqu'il figure sur l'album de remixes de la bande originale du film Tron, composé par les Daft Punk.
Là ou Galactic Melt frayait avec des sons moins abordable pour une première écoute, on sentait bien la volonté d'allez plus loin dans l'expérimentation, ce In Decay se veut un poil plus attractifs, proposant la même recette, claviers et boites à rythmes vintages, son vintage tout droit venu de l'espace, il se veut quand même plus appréciable pour le néophyte, avec ses compositions aux styles plus classique, restant quand même d'excellente facture au final.
Les fans de Board Of Canada, de Vangelis ou Tangerine Dream apprécieront sans doute, de même que la petite référence inconsciente à la bande son du film Drive de Cliff Martinez et même à certain vieux titres de The Cure. A tout les nostalgique de ces sons, ils seront ravis, et comme le disait un musicien dont j'ai grave zappé le nom, "les années 80 n'ont pas finit de nous étonner musicalement, on à seulement produit 10% du potentiel de l'époque"
Au Final, l'album reste un poil moins intéressant que son prédécesseur, qui se permettait d'allez plus loin dans sa recherche. Reste quand même un très bon album de musique 80's qui se veut sans doute un amuse gueule en attendant un prochaine disque.
7.5/10