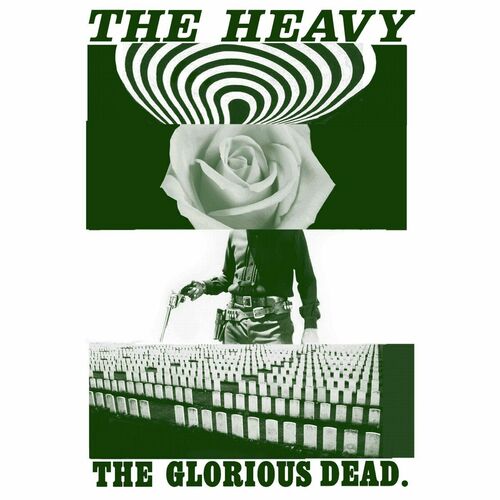 2012
Counter Records
The Heavy, c'est ce genre de groupe qui à un genre bien à lui, mélange pétillant de Hip-Hop, de Blues, de Soul, de Rock et d'ambiances western. J'aurais cru, pour ma part, difficile de faire aussi bien que "The house that dirt built", sorti en 2009 avec son hit imparable Short Change Hero, qui n'aurais pas détonner dans un film de Tarantino. Il m'aura fallut un peu de temps pour me faire à cet album, et de nombreuse écoute agrémenter de pas mal de vins rouges. Mais c'est chose fait et donc, je livre mon avis définitif et arrêter pour toi, lecteurs rare et précieux ( on est pas Pitchfork ici).

The Glorious Dead est un très bon album, éclectique comme je les aiment tant. L'album tire sa force de toutes ces influences, brillamment emmené par un Kelvin Swaby possédé et un trio de musicien brillant. C'est foutraque sans perdre ce fil directeur tout au long de l'album. J'ajouterais, après réflexions, d'autre influences, on y retrouveras donc avec plaisir un peu de Funk, un peu de Gospel, voir même un peu de psyché, si si. Clairement pour moi un des groupes les plus prometteur des années 10's , synthèse excellente d'un autre siècle. Vous l'avez compris, j'ai adorer, j'avais dans l'idée de faire une review track by track mais ce serait assez redondant et surement un peu inutile aussi. Si vous voulez échappé un peu à la morosité, écouté le, si vous voulez écouter quelques chose un peu différend, écouté le. Si vous n'aimez pas, dites le aussi, c'est votre droit.
8.5/10
A noter, l'utilisation de "
Short Change Hero
" comme musique d'introduction de l'excellent Borderland 2, jeu que je vous conseil d'acquérir au plus vite.